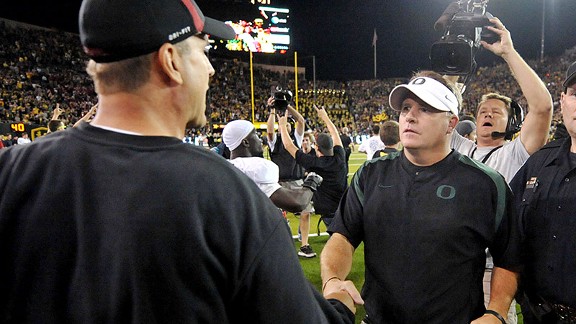 I'll start by admitting I was dead wrong about the 49ers. First I thought they'd keep Jim Tomsula and replace him with Eric Mangini at some point in the middle of next season. But Tomsula was fired on the last day of the season, so I assumed Mangini would get the job even sooner than I had originally assumed.
Then this exchange occurred four days ago.
Reporter: Will you have any in-house candidates this year?

Trent Baalke: No.
There you have it. Ambiguity was absent from Baalke's response, so there's nothing left to do but take him at his word.
Reporter: When did you get your last contract extension?

Baalke: The last time, I'd have to go back and check, but the last time I signed a deal was probably 2012 or 2013 maybe.

Reporter: And it runs through when? How long are you under contract?

Baalke: Honestly, I don't know. I think it's two more seasons I believe. But, I'd have to check.

Reporter: Didn't your contract matchup with Tomsula's, that you're both signed through 2018?

Baalke: Honestly, I do not know. It's either at the conclusion of the 2017 season or possibly the 2018 season. It's one of the two.

Reporter: So, your deal wasn't redone in conjunction with Jim's four year contract last year?

Baalke: No. What I don't want to do, I'm not going to get into my contract details. But I believe, for transparency reasons, I want to say there was an option year that was exercised, but I honestly don't know if that was '17 or '18.
Baalke's a beauty, ain't he? He explains that he somehow doesn't remember if he's signed through 2017 or 2018, "for transparency reasons." On that note, I want to say my ATM code is 6969, but I honestly don't know if that's my pin number or not. For transparency reasons.
Still, I think the 49ers learned their lesson. Unless they want an all-out revolt if they lose in Week 1, they can't promote anyone who'd willingly join a Jim Tomsula coaching staff, even the MANGENIUS. They're looking for an offensive coach anyway, based on everything we've been hearing, and it's hard to believe they'd hire someone with whom the majority of fans aren't familiar.
Here are all the candidates, from least likely to likeliest. I'm leaving off a couple people (Mike Shula, Dirk Koetter) … and based on my prediction skills, one of those two will probably end up getting the job.
Sean Payton: He's staying in New Orleans.
(Odds: off the board)
Mike Holmgren: The 49ers have shown no interest in Holmgren.
(Odds: 1,000,000-1)
David Shaw: Shaw has shown no interest in the 49ers.
(Odds: 1000-1)
Adam Gase: He's a hot commodity and something went wrong a year ago between Gase, Baalke, and the Yorks.
(Odds: 500-1)
Anthony Lynn: His name sounds vaguely familiar to non-bandwagoners, since 26 of his 28 career carries and 175 of his 177 career yards came as a member of the 49ers in 1995-96. But even then, it took reports this week that the 49ers were scheduling an interview with Lynn to alert most of us to the fact that he was an assistant head coach and running backs coach for the Bills. Lynn would need the best interview ever, an interview so fantastic that Baalke and Jed York felt comfortable selling him to a very skeptical fan base, to be a finalist, let alone get the job.
(Odds: 250-1)
John DeFilippo: I'm with John Middlekauff on this.
I don't think he interviewed for the head coach. They are trying to line up the top assistants https://t.co/7a4gloCtfp

— John Middlekauff (@JohnMiddlekauff) January 8, 2016
The 49ers absolutely cannot hire a Browns assistant to become their head coach. Except, wait a sec … according to his Wikipedia page, DeFilippo grew up in Youngstown, Ohio and was a graduate assistant at Notre Dame. If the Yorks are truly letting Baalke handle this on his own, DeFilippo's background doesn't matter.
(Odds: 200-1)
Mike Shanahan : A nice fallback candidate if all the others fall through. However, he's 63, he's linked a little too closely with the pre-York 49ers, and it's difficult to imagine Shanahan going through a long interview without letting it slip that he's pretty sure he knows a lot more about all of this stuff than Baalke.
(Odds: 50-1)
Josh McDaniels: The Patriots led the AFC in points despite losing Julian Edelman (their best receiver) for seven games and Dion Lewis (their best running back) for nine. Danny Amendola was in and out of the lineup, and the Pats' main goal all season was to protect their best weapon, Rob Gronkowski. Sure, they have Tom Brady, but the Patriots' offensive diversity is the exact opposite of what we saw from the 49ers with Geep Chryst calling the plays.
(Odds: 20-1)
Darrell Bevell: Even without head coaching experience, Bevell would make a lot of sense since he's shown over the years that he can construct a good running game, and Russell Wilson's late-season development was phenomenal and unexpected considering their offensive line problems. Hiring Bevell would force the Seahawks to replace another important assistant, plus Tim Ryan AND Ted Robinson mentioned Bevell as a potential candidate.
(Odds: 10-1)
Chip Kelly: This one's complicated.
Kelly also fired Tom Gamble in Philly, who is now a big part of the #49ers football side.

— Kevin Lynch (@klynch49) January 3, 2016
On Chip Kelly's 49ers interview (as @MaioccoCSN reported): I wouldn't discount the Tom Gamble connection. Could be important both ways.

— Albert Breer (@AlbertBreer) January 8, 2016
@JohnRBackman It's my understanding that Chip Kelly and Tom Gamble had a great rapport with the Eagles.

— Matt Maiocco (@MaioccoCSN) January 8, 2016
One other thing to consider is, if Kelly and Gamble are tight, could Gamble have a bigger role? https://t.co/aVzXHRv76G

— Kevin Lynch (@klynch49) January 3, 2016
Is Chip Kelly a fan of Colin Kaepernick? A league source tonight suggested the answer is: yes, very much so. #49ers

— Matt Barrows (@mattbarrows) January 8, 2016
Congrats on the successful surgeries @Kaepernick7! Looking forward to a strong 2016! pic.twitter.com/aVDMlSYNt1

— XAM Sports (@XAMSports) January 7, 2016
Kelly is a big name, he's known for being innovative — he's got a cool, Silicon Valley-like vision for football that would keep Jed warm at night — and he's known for offense. He's also thought of as being too similar to Jim Harbaugh to be a fit in Santa Clara, but that's too simplistic. No one is like Jim Harbaugh, even his own brother.
As bad as things got in Philly over the past year (and racially-based locker room concerns are never optimal, even if they're unfounded), Kelly did take a 4-12 team to 10-6 in his rookie year as an NFL head coach. Is Kelly done with personnel? Is the working relationship between Kaepernick and the 49ers salvageable? It's impossible to know the answer to either question for certain, but it's fairly easy to envision Kelly and Baalke — two confident guys — getting along and dreaming of a scenario in which they both prove their growing legions of doubters wrong together.
(Odds: 2-1)
Hue Jackson: He worked together with Baalke at Washington from 2001-03, and he seems to be everything the 49ers would want (without the Super Bowl trophy in his back pocket). Jackson has experience on both sides of the ball, but he's known for having a way with quarterbacks and calling plays.
"I think somewhere in there, he said we're going to run the football."
Well Trent, Jackson's Bengals only passed on 53.49% of their offensive plays. 26 teams threw more often than Cincy, including the 49ers (59.75%). In case you're wondering, the Seahawks threw only 51.69% of the time (29th).
The only team that passed less than 50%? The Bills, at 49.9%. Their offensive coordinator? Greg Roman. He will not be the next head coach of the 49ers.
The 49ers may have some competition for Jackson, who'll try to steer A.J. McCarron to victory tomorrow night against the Steelers. Why is he the likeliest candidate in my mind?
Source: "Baalke loves Hue"

— Kyle McLorg (@Kyle_McLorgBASG) January 3, 2016
Based on what my source told me, Hue Jackson sounds like the guy that Baalke wants though.

— Kyle McLorg (@Kyle_McLorgBASG) January 3, 2016
Plus Hue and Baalke were together with the Redskins. My source said "Baalke loves Hue." It's a solid fit if you want possible continuity.

— Kyle McLorg (@Kyle_McLorgBASG) January 7, 2016
Kyle's source seems to be telling us something.
(Odds: 1-2)