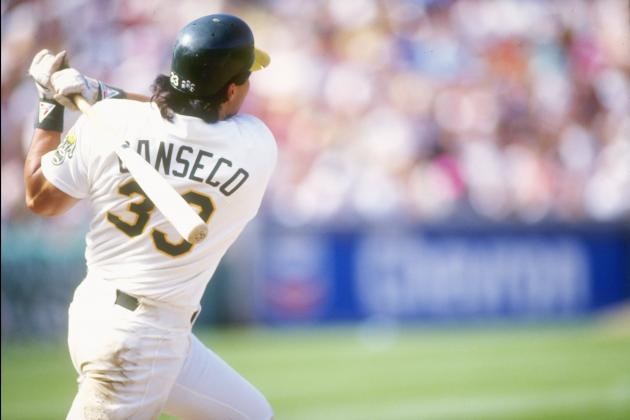 I remember I once went to an A's game in September of 1985 with my Dad. Playing left field that night was a guy called Canesco, or so I thought. My Dad said, "That guy is supposed to be the next Babe Ruth." Wait, what is his name? Oh, it's Canseco, not Canesco. Hard for me to pronounce. But it didn't take long before the proper way to say his name came rolling very easily off my tongue. He's my favorite Oakland A's player. Ever.
I grew up with a baseball dynasty. When I was aged 7, 8 and 9, the A's won the World Series every year. Those teams had plenty of famous names which enriched my childhood, like Reggie, Campy, Sal, Vida, Blue Moon and Rudi. I loved all those guys and it made me an A's lifer – I will always stay loyal. But Jose Canseco is by far my favorite A, even though he played with stallions like Rickey, Carney, Stew, Hendu, Steiny and McGwire.
It all started in 1986. The A's were fighting for respectability in the old AL West. They had a two-pronged attack of the recalcitrant vet Dave Kingman and the rookie phenom Jose Canseco. Many Kingman critics forget that he hit exactly 100 home runs in his 3 years with Oakland, mostly as a DH. Kingman was not a barrel of laughs – ask Susan Fornoff. But he was a stud who hit bombs and knocked out opponents in team fights – ask the Cleveland Indians. But back then, as I was in college and spent almost every home game in the former version of the bleachers, we all waited to see how many jacks #26 and #33 would hit that game.
Canseco ended up American Rookie of the Year that season. He also made the Midsummer Classic. But as KC and AL manager Dick Howser allowed Jesse Barfield to get his fifth at-bat of the All-Star Game, the Toronto outfielder made the final out with Canseco in the on-deck circle. Canseco never played in that game, and I was livid. Howser ended up having a serious tumor in his brain and then I felt bad for cursing his name.
Most of us know the rest: Canseco became baseball's first 40/40 Man. He was half of the Bash Brothers. He won three straight pennants with Oakland, bookended around a world championship. He was AL MVP. He looked like a future Hall of Famer. The world was his oyster, and the A's seemed to be a new dynasty on the horizon.
I was working for the SportsChannel broadcast the night Canseco was traded. Sandy Alderson, the A's GM at the time, made a point of waiting until Canseco was in the on-deck circle, and then had him recalled for a trade. I remember Greg Papa said on the air, "they haven't traded Jose, have they? Haha." They had. And the A's have never won a pennant since that trade. That's a fact. I still haven't truly gotten over that stupid trade. Alderson wanted to show that it was HE who was important, not the best player in baseball.
Canseco literally bounced around from the Rangers, Red Sox, back to the A's, Blue Jays, Yankees and White Sox. We know about the injury from pitching a knuckleball. We recall the home run which bounced off of his head. And everyone read his book, Juiced, which was his bitter response to his perceived blackballing by the big leagues. That book changed sports forever. Hearings in congress ensued. McGwire humiliated himself on Capital Hill with his repetitive, "I'm not here to talk about the past, I'm here to talk about the future" and his grammatically disastrous, "steroids is bad." Rafael Palmeiro and Curt Schilling made buffoons of themselves. Sammy Sosa forgot how to speak English.
Canseco then embarked on a series of ridiculous ventures, like boxing against Danny Bonaduce and competing on Celebrity Apprentice, and last year shot off a piece of his finger whilst cleaning his handgun (and as a prank he pretended that his reattached finger "fell off" during a poker game).
His latest headline is that he will now play baseball for the Pittsburg (CA) Diamonds next Tuesday through Thursday. While his appearance for this independent team is just a favor to team owner Aaron Miles, a former MLB player and Antioch High grad, it's still a chance to see Canseco whip a bat through the strike zone and perhaps send one skyward.
It's hard to say "what might have been" for a guy who was a six-time All-Star, but I believe Canseco could have achieved higher heights. All I know is that he was the first piece to the puzzle of putting my A's back on the map again. I've never been more excited about anyone taking an at-bat, ever. I will always love Jose Canseco.