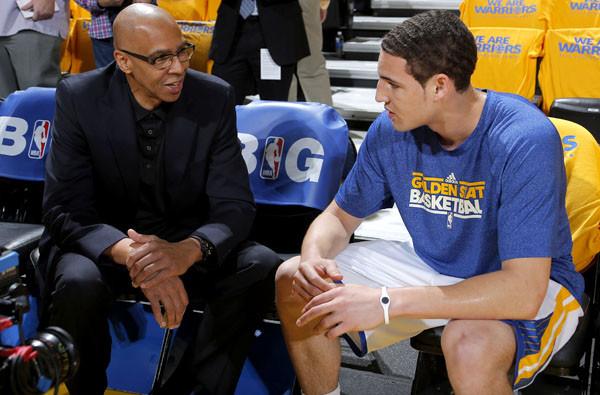 The Warriors won last night in Denver to push their record to 15-0. They can set the NBA record tomorrow for the most wins to start a season in Oakland against the Lakers, who have fallen on very tough times. Kobe Bryant is playing terrible basketball as he collects his final gigantic paychecks, and the Lakers have the worst record in the Western Conference.
That didn't stop Lakers radio color commentator Mychal Thompson from making a wacky prediction.
"They're going to take the Lakers lightly," Thompson said on ESPN's "Thompson & Trudell."

"They'll look at the Lakers record and go 'Oh, they're a lottery team. We're not going to take them that seriously.' I think the Lakers will go out there with a sneak attack and surprise and shock the world. And like you said, I'm predicting the Laker victory in Golden State to stop their 15-game winning streak and prevent them from breaking the record."
One could describe Thompson's "shock the world" comments as the desperate ramblings of a homer broadcaster. But Thompson's son happens to start for the Warriors — he's also a part of their unbelievable small-ball closing lineup that absolutely flattens teams — and Klay responded today on KNBR's Fitz and Brooks show.
"Yeah, I saw that. But I know he really doesn't believe it deep down. I think he's just doing it for entertainment value," said the 25-year-old shooting guard who sports a 21.4 points per game average against the Lakers in his career.
"Can't blame him. It's his job. He's got to stick with the team that pays the bills. But deep down he knows that it's going to be a very, very tall task for the Lakers tomorrow."
Klay isn't kidding — the Warriors are 17-point favorites tomorrow night. He's no stranger to his dad's outspoken ways, either. Mychal joked that he would dock Klay's allowance back in 2013, after his son was fined for his part in an on-court scuffle against the Pacers.
"I'm used to it," Klay said at the time. "He's been like that all my life. He's got jokes."