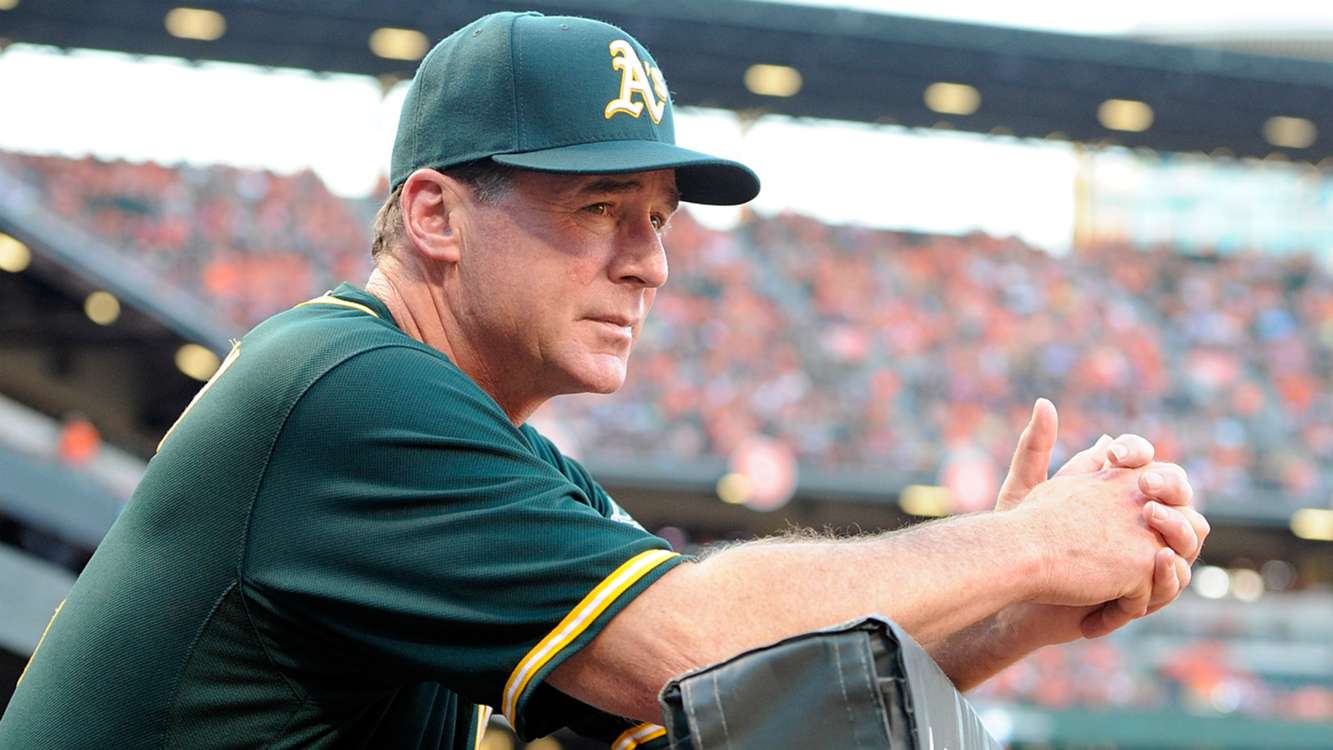 Yesterday morning I received an e-mail from the A's which announced that a press conference would be taking place at 3:30 pm at the Coliseum. It made a point of saying that Billy Beane would attend. I initially thought it was going to be about Beane moving upstairs in the organization while Assistant GM David Forst would have the first word in his title removed. That rumored transition has been going around for a while and still may come to fruition this season, but the presser was to officially seal the deal on a contract extension for the manager through 2018.
Bob Melvin has been the perfect fit for this organization. A formerly successful manager with Arizona and a so-so skipper with Seattle, Melvin has the necessary experience to run a game in a savvy and professional manner. You can look at managers like Don Mattingly and Matt Williams to often observe how to not run a game. But having the proper knowledge isn't always enough — there are so many other factors. Melvin immediately came in midway through the 2011 season with a new style the A's were not used to: he was going to communicate.
I asked outfielder Ryan Sweeney at the time what he thought the biggest difference was between Melvin and his predecessor, Bob Geren. Sweeney told me, "old Bob would write out the line-up card when we got here; new Bob called me last night and told me I'd be in the lineup today." Melvin also stood on the top step and watched every single pitch, which was different for A's fans to see. He also showed very early that he's an even-keeled man, never getting too high or too low.
Every player loves to have their manager get their back, and Melvin is the king of that. He never blames his charges or says "ask him" when a reporter inquires about a mistake a player made. Two years ago Derek Norris popped a bunt up to the pitcher who proceeded to drop it. But Norris had never left the box. When he finally saw the ball on the ground, he began to run to first but was thrown out. Had he run at the point of contact, I believe he would have been safe. I was upset and asked Melvin about it after the game, and he replied, "I think it's a natural human reaction to not run when you bunt a pop-up to the pitcher." Yep, Melvin would never criticize his men.
As for Beane, it is with Melvin that he finally has realized that managers aren't superfluous. Beane fired Ken Macha right after winning the only playoff series under his leadership, but then let Geren toil for years in abject mediocrity. Beane knows that the team he gave Melvin in 2012 was garbage, and look what happened with it. It was no accident the A's won the division with Melvin at the helm. I believe that if Brian Price or Lloyd McClendon was the manager that season, the A's would have finished well behind the division winner. And Beane has now tipped his hat to Melvin in a big way, as it's impossibly rare for a skipper to sit at his own contract extension press conference when his team is 15 games back.
As the A's move forward the next few years, I would expect some lean times. There will the regular collection of players discarded from other teams and probably another Rule-5 guy. The bullpen will not get fixed overnight and the rotation has only one great pitcher. The shortstop position is still a question mark and the outfield has gone through a battle of attrition. And the DH hasn't hit except for April and this last home stand. You'll also see young faces because they're cheap and plentiful. But through all that, Oakland will have a guy who has won Manager of the Year in both leagues. Having Melvin around the next three seasons makes me feel a little bit better about the A's future. Let's hope Beane gives him some real talent.