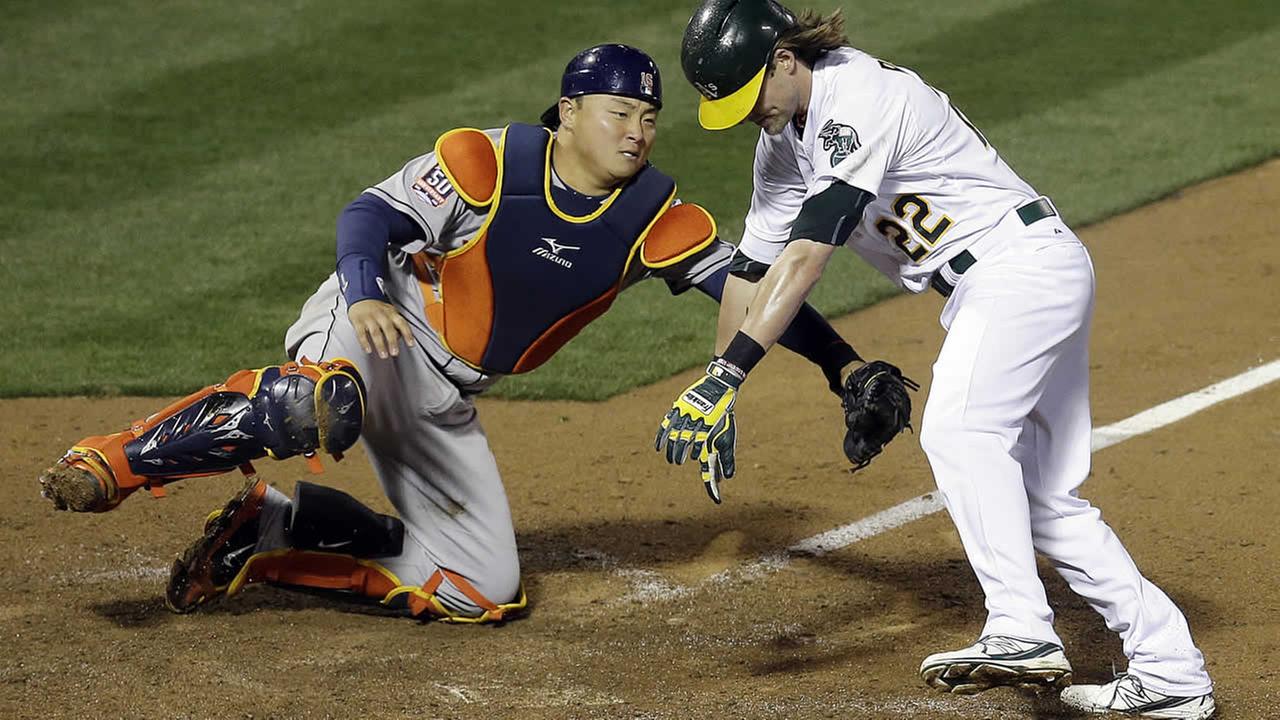 Last-ros? Try First-ros. Houston departed Oakland yesterday with a three-game sweep and left a stadium filled with confused players and angry fans. How could this be? The A's are the big, bad franchise that has made the playoffs the previous three seasons while the Astros are a rebuilding team that is years away from contending, right? The A's are supposed to trounce the Astros as entitled by birthright, correct? Not so fast. If you cannot pitch, catch, throw and hit, you will not win many baseball games. The good vibes/funk/pixie dust that has hovered over the Coliseum these last few years seems to have dissipated into the ether. The A's will always fight back and win in the end, and the walk-off hero will receive the requisite "pie" of shaving cream right in the kisser, no? No.
The A's record sits at 8-12 as they "enjoy" an off-day before the Angels come to town tomorrow night. Each and every member of the playing and coaching staff can sit in an easy chair at home, brandy and cigar in hand, and contemplate several disturbing trends beginning to rear their ugly heads in this young season. The area of greatest concern just may be the alarming amount of errors, as the A's are presently on pace to commit 162 of them. Yes, they have 20 errors in 20 games. You would have thought that after an error machine like Josh Donaldson was traded away that the miscues would go down, not up. Even sure-handed first-baseman Ike Davis could no longer hold out as he made his way into the error column yesterday.
It's one thing to commit an error because of an aggressive play or a bad hop, but it's unforgivable to make one because of sloth or indifference. In the seventh inning on Saturday, both Josh Reddick and Cody Ross made errors in the outfield because of lazy play. People pay good money to watch professional athletes, so they should never look like they don't care. But as I pointed out on the airwaves of 95.7 The Game when I was doing the postgame show, fans (both in the stadium and watching on TV) also give their time to the game, which is more valuable. We'll all make more money but none of us will ever make more time, so a full effort from everyone in uniform must be mandatory.
When you look at Oakland's batting averages, many of them look rather robust. But those nice numbers aren't translating into wins. It's weird, because in the last few seasons, the A's would have very low individual batting averages but were winning a lot of games. You might remember back in 2012 when the A's made striking out an art form as they broke the all-time record for strikeouts whilst winning the division! It's yet another reminder of the old saying: there are lies, there are terrible lies, and then there are statistics. But as we know in sports, there is only one stat which matters, and that's the win-loss column.
It's been an eventful first 20 games for the A's and many plans have already been scrapped. Pitcher Kendall Graveman is now in AAA after earning an ERA of 8.27 in four starts. Ryan Cook is back in the bullpen, R.J. Alvarez is in Nashville, and Arnold Leon had one big league inning before returning to the PCL. Infielder Tyler Ladendorf couldn't be recalled due to injury so Max Muncy is in town. Ben Zobrist is having knee surgery. Mark Canha looks like he might be a one-week wonder. Tyler Clippard is now in the Blown Save Club. Jesse Chavez is back in the rotation. Bob Melvin has been thrown out of a game and is becoming justifiably more ornery. Their 20 errors lead the universe in defensive futility.
That sounds like a couple of months' worth of baseball, not 20 games. All the new and changing faces haven't quite gelled yet. So while it's way too early to panic, every loss they suffer now will just make it harder for them later on. The A's better figure things out pretty soon before they sink too far. If having the Astros sweep you for the first time ever isn't the ultimate wakeup call, I don't know what is.