I was at the Coliseum on Saturday for the Barry Zito vs. Tim Hudson matchup. It was something unlike I'd ever witnessed at a professional sporting event. The whole encounter felt like an exhibition, as both the A's (especially them) and the Giants started pitchers just for kicks. The Cactus League feel continued as seemingly dozens of players made appearances and neither squad could pitch one lick. But in a year lost long ago, we took brief comfort in watching a couple of our old favorites, even though neither one could pitch more than two innings. Zito was knocked around and Hudson completely lost the strike zone altogether. But their effectiveness, or lack thereof, wasn't the point of the occasion.
I will admit here that I got chills when Hudson warmed up to "Sweet Home Alabama" in the first inning. Zito even had his whacky song from times gone by played for his warmup pitches. It took constant reminders that this game, in fact, did count. When Hudson was mercifully removed after walking men with the bases loaded, he took a curtain call with "Huddy" being chanted in unison. His bright smile only reinforced his reputation as being one of the friendliest and best teammates in MLB. Meanwhile Zito, always the cool customer, quickly doffed his cap and acknowledged the fans salivating to fete him, too. Both moments were very nice.
Then yesterday the third member of the "Big Three" showed up. Mark Mulder was among the trio to throw out simultaneous first pitches. I can't recall a time when I've seen an active player throw out a first pitch, but like I said, this weekend was pretty unprecedented. I also don't believe I've ever witnessed three men take a group photo on the field with their entire families, but there they all stood with spouses and children. I rather liked it and was reminded that sports is not life and death. Hard to believe, but yes, that is true.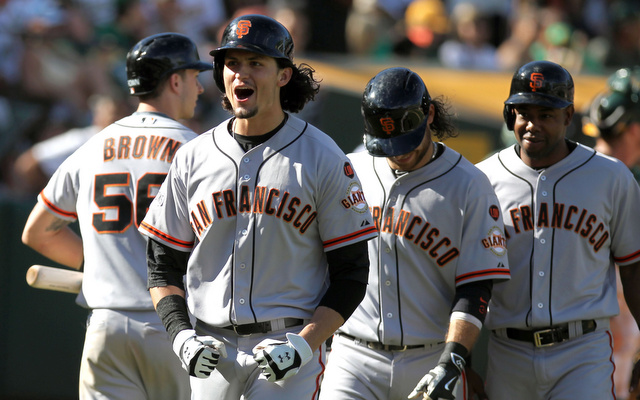 I attended the first-ever game at Pac Bell Park in April of 2000. My lasting memory was of a three-homer game from an unlikely source, as an elderly Kevin Elster went yard thrice. It left everyone stunned, as it gave the false illusion that a bandbox had been constructed at China Basin. And yesterday's contest had the same sort of impact, as little-known outfielder Jarret Parker continued his abuse of A's pitching with three home runs and seven RBI. Giants skipper Bruce Bochy remarked that it was the greatest offensive output he'd ever seen in his career. Parker doesn't seem like a gold glove defender, but the man with Pat Burrell's body and Johnny Depp's face will be getting paid if he continues to hit anything close to like he did in this series.
As reality hit us in the end, San Francisco will not be defending their World Series title and the A's are now officially the worst team in the American League for 2015. For Oakland, that is only the third time they're held that embarrassing title since they moved to California. And we're talking about a team which was the best in the AL at last year's All-Star break. It's been a lightning-fast ride from first to worst. A's fans have barely been able to catch their breath between saying, "we're awesome" to "we suck." If I was in charge, I would be humiliated at such a monumental collapse. And now we hear rumors that the General Manager will relieve himself to a higher position with a new title. Plus, two former A's players from 2014 are setting their teams ablaze as each storms into the playoffs. Not fun.
This weekend summed things up for the A's this season: a few pleasant moments, but in the end, they lost both games. In professional sports, winning is everything, and the A's rarely did that. For the first time in forever, I'm actually OK with baseball season coming to an end.