The Oakland Raiders will look to bounce back from two tough losses in Detroit this week against the Lions. While Detroit has only won two games this season, but one of those came last week over the Green Bay Packers. In the NFL, you can never overlook an opponent because upsets happen every week. Here are some keys to the Raiders avoiding what would be a very mild upset (the Raiders are listed as a one-point favorite by some oddsmakers, but others have the game as a pick-'em).
Get Amari Cooper going
In six of his nine games this season, including the last three, Amari Cooper has been held to under 100 yards. Meanwhile, the Raiders have only been able to win one game when Cooper does not eclipse the 100 yard mark.
Cooper is by no means having a bad year. He is on pace to finish with over 1,000 yards, something no Raiders receiver has done since 2005 when Randy Moss was with the team. Doing it as a rookie is impressive and doing it with the flashes of greatness he has shown is even more impressive.
However, the Raiders need him to cut down on his drops — Cooper has eight, second in the NFL behind Mike Evans (numbers courtesy of Pro Football Focus). The Raiders also need to find more creative ways to get the ball in Cooper's hands.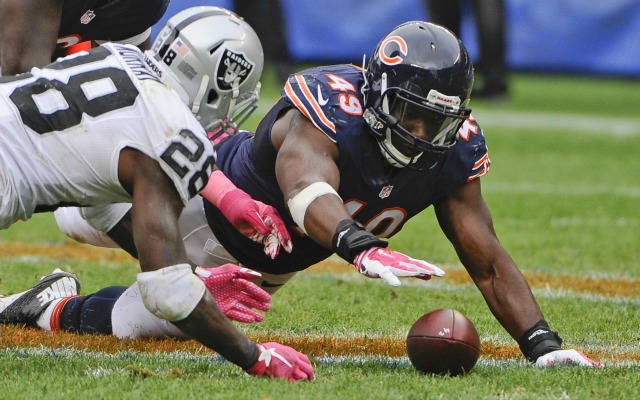 Stop the flood of turnovers
After just nine turnovers in their first seven games, the Raiders have handed the ball to their opponents six times in the past two contests. In their five losses they've committed 13 turnovers compared to just two in their four wins, so even though it's cliché to say that winning the turnover battle is a key to victory, it's been a theme for this Raiders team.
Both the Broncos loss and the loss in Chicago can be tied directly to turnovers late in the fourth quarter. Oakland's offense simply couldn't recover from a flood of giveaways against the Steelers. Derek Carr's second interception against the Vikings, which occurred late in the fourth quarter, eliminated any remaining hope of a comeback.
Don't let Calvin Johnson beat you single-handedly
Two straight weeks in a row, the Raiders allowed the offensive star of the opposing team to win the game for them. First it was Antonio Brown, then Adrian Peterson. This week, the Raiders take on another team with a guy who is good enough to take over a game against this defense.
Calvin Johnson may be 30, but he is still one of the premier receivers in the NFL. That's not exactly what you'd call a good matchup for a Raiders defense that ranks 31st in passing yards given up per game. They will not be able to shut down Calvin Johnson, but they can and must prevent him from taking the game over. It won't be easy with the corners they have, but that's what double teams were created for.