Aldon Smith told reporters in July that he had been sober since going to rehab, something that was extremely difficult to believe given the witness accounts from his "bomb" incident at LAX (and, let's face it, everything else we've come to know about Smith over the years). With the San Jose Mercury news publishing details from Ray McDonald's sexual assault investigation, it's impossible to believe anything Smith says about his alcohol intake.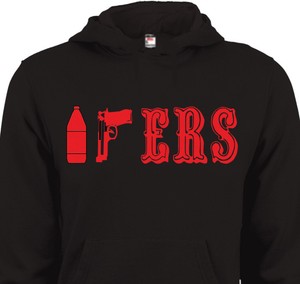 As for the 49ers … well, most of us will believe just about anything these days. What a mess.
The woman who claims former San Francisco 49er Ray McDonald sexually assaulted her told police the alleged attack occurred after she fell or passed out by the pool at his house on Dec. 14 and hit her head on the ground, according to a search warrant affidavit released by the courts Monday.

She woke up the next morning naked in bed with McDonald at his Silver Creek home, according to the affidavit. Initially, McDonald told her he let her sleep in his bed because she was tired.

But later that Sunday morning, she said the former defensive lineman told her they had sex. Yet she spent the rest of the day and into the evening drinking with him and 49er linebacker Aldon Smith, who had dropped by. Smith is on probation for drunken driving and possession of three assault rifles.
There's a lot more in the article, including a conversation via text that a law enforcement agent — posing as the alleged victim — had with McDonald about their time together. The investigation is still open, and McDonald (who was released by the 49ers on Wednesday) has not been charged with a crime.
Since returning from a nine-game suspension, Smith hasn't been nearly as dominant as we've come to expect since he joined the team in 2011. He has just two sacks through six games, nowhere near his normal pace (Smith had 42 sacks in 43 games over his first three seasons). According to Pro Football Focus, Smith has been more effective as a run defender (+4.6) and in pass coverage (+0.6) than as a pass rusher (-1.2).
"There's a lot more to the job than just sacks," said Jim Harbaugh on Dec. 18. "He's setting an edge, drops into coverage, physical against the run and the tackles. I think he's done a very good job. It's been good for everybody to have him back out there."
PFF also shows Smith as being third on the team in quarterback hits (five) and hurries (22). But one has to wonder if Smith's best years are behind him. At some point, the trouble is going to outweigh the production. That time may have already come. Not that the 49ers will release him. Whether it's teammates like McDonald or Smith's bosses, the oft-arrested outside linebacker has plenty of enablers on his side.
***
Update: I didn't even think about the legal ramifications here. Noted law school graduator David Fucillo from Niners Nation explained the whole ugly situation better than I probably could.
It does not say what Smith was drinking, but if it was alcohol, there is a serious problem. The biggest immediate issue is that he is on probation for his guns and drinking charges, and the terms of his probation included no drinking. If it could be proven that he was drinking, his probation could be revoked, and he could go to jail.

The bigger long-term issue is of course the notion that Aldon is drinking at all. He went to rehab and claimed to have cleaned things up, so that could be problematic. It is entirely possible he was not drinking alcohol, so we'll have to wait for more details. But for now, this is something that is officially back on the radar. The 49ers exercised Aldon Smith's fifth year option, but for now it is only guaranteed for injury. If further proof came out that Aldon Smith was drinking alcohol, the 49ers would have until the start of the new league year to figure out what to do with that option.