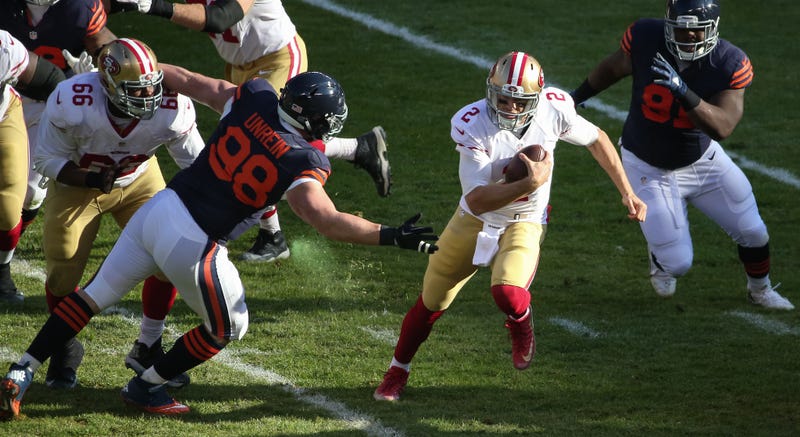 This is probably the best day of Blaine Gabbert's life. He has no interest in losing respectably and maintaining or even improving the 49ers' draft position, nor should he. He finally got a chance to prove he can play quarterback in the NFL, and without him the 49ers wouldn't have won 26-20 in overtime today.
He didn't do anything special through the first 57 minutes of this game. In fact, it looked like he'd probably finish the game with less than 100 yards passing. But he didn't turn the ball over and he tied the game with an impressive 44-yard touchdown run that made Vic Fangio's defense look sloppy and confused.
After another three-and-out to start overtime (Bradley Pinion punted nine times in this game), the 49ers missed out on a huge opportunity when Corey Lemonier — who was all by himself in coverage — dropped a deflected Jay Cutler pass. It wasn't quite as bad as Tramaine Brock's drop in the end zone last week, but it was close.
The drop ultimately wouldn't matter, as Gabbert tossed a deep pass to a wide open Torrey Smith down the left sideline, allowing Smith to race into the end zone to end the game. Gabbert and his teammates were beyond thrilled after the 71-yard game-winning touchdown, because they aren't interested in tanking. They won their first road game of the year, a game neither team appeared very interested in winning throughout the afternoon.
Here's why the Bears lost to the lowest-scoring team in the league.
— Jay Cutler, who was exceedingly ordinary today, couldn't lead his team into the end zone in his first two chances after getting excellent starting field position both times. He completed 18-of-31 passes for 201 yards, didn't throw one touchdown pass, and he kept the 49ers in the game early with a pick-six to Jimmie Ward. If Cutler wasn't only slightly faster than Bernie Kosar — and I'm referring to present-day Kosar — he would've had several chances to scramble and pick up first downs. He looked fairly apathetic, as he often does, throughout a game that featured lackluster play from both sides.
— Bears punt returner Bryce Callahan took Pinion's first punt of the day 67 yards for a touchdown, but it was called back due to a holding call. Chicago was penalized for holding five times on the day.
— Robbie Gould missed a 40-yard field goal in the third quarter, but he had a chance for redemption at the end of the game. With the score tied at 20-20 and slightly less than two minutes remaining, Deonte Thompson returned Pinion's kickoff 74 yards. The Bears, who didn't trust Cutler one bit at this point, ran it five straight times to set up a 36-yard field goal try. Gould is one of the most consistent kickers in the league, and before today he was 24-for-27 (88.9%) on field goals.
But with (1) the 49ers' offense looking so bad, (2) the Bears doing so little with the opportunities they were given, (3) the footing on the field looking shoddy, and (4) Phil Dawson getting one of his extra-point tries blocked earlier, I had an inkling that Gould's day would get much, much worse.
The way this game is going, Gould could easily miss this FG off the upright or something

— Bay Area Sports Guy (@BASportsGuy) December 6, 2015
He didn't even come that close. Gould shanked it wide left, and the 49ers took advantage … eventually.
Niners Notes
— The 49ers moved to 4-8, which obviously isn't good. However, a lot of teams are just as bad (record-wise, anyway), which means the 49ers are going to have to do some "work" to get a top-10 draft pick. If the Chargers lose to the Broncos (which looks likely, seeing as they're behind 17-3 as I write this), three teams are guaranteed to have more losses after this week than the 49ers, and the Cowboys will fall to 3-9 if they lose to Washington. Seven teams have four wins, including the Eagles (who will probably lose today in New England) and the Saints (who are somehow leading Carolina 14-7 in the second quarter).
— 49ers' remaining schedule: at Browns (2-10); hosting Bengals (10-2); at Lions (4-8); hosting Rams (4-8). It would've sounded crazy a few weeks ago, but 7-9 is definitely within reach.
— The 49ers should ditch Erik Pears and Marcus Martin and make Trent Brown and Daniel Kilgore full-time members of their offensive line. What do they have to lose? (Besides all-important draft positioning, I guess.)
— Joe Staley hasn't had a bad year, although it hasn't quite been up to his usual standards. He was not all that good today.
— The 49ers got a couple makeup calls this week. Jaquiski Tartt's body-slam of Cutler — the 49ers' only sack of the day — would've been legal 10 years ago, but tackling the quarterback that way is almost always penalized in today's NFL. And Tramaine Brock yanked Marc Mariani's helmet off his head in front of an official who didn't seem to care.
— Jim Tomsula's job is 99.9% safe at this point, OK? His team has been competitive since the loss in Seattle, OK? They would've defeated the Cardinals if they didn't get screwed over by the refs, OK? And Tomsula never complained one bit to the refs, unlike Jim Harbaugh who never showed an ounce of class on the sideline when he disagreed with a call, OK? Today Jimmy-Tom proved he can win on the road, OK? He owned it, he fixed it, and he moved forward with Gabbert, OK?