NHL
Sharks making a statement with recent string of wins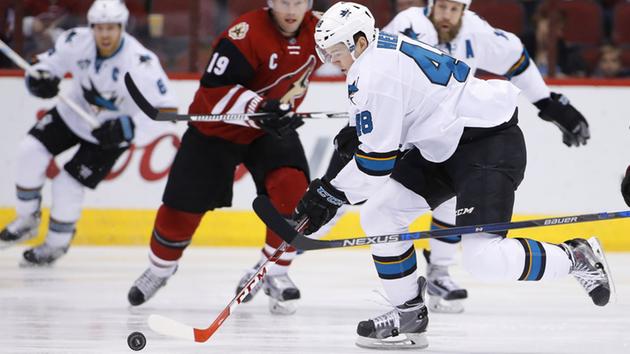 After the first frame concluded against the Coyotes in Arizona on Thursday evening, I started thinking about whether or not this was a "statement game" for the San Jose Sharks.
Which made sense. The Coyotes have maintained their prowess throughout the first half of the 2015-16 campaign. A victory over the Desert Dogs in their home barn wouldn't just boost San Jose to second place in the Pac-Division standings, but also set a tone for the upcoming tilts against Arizona and show they weren't backing down in the face of serious competition.
But then I started having flashbacks to last season when the Sharks couldn't buy a win in February, and during that time every game seemed like that "make-a-statement game" for Team Teal. I could hear those under-the-breath conversations I had with colleagues while marching down five flights of stairs to get to the Sharks' dressing room.
— Loss at the Outdoor Game to LA. This was the game they needed to win to stay in good standing.
— Loss at home to Vancouver at the end of March. This was the game they needed to win to get back in the playoff picture.
— Loss on St. Patty's Day to the Winnipeg "Our Fans Chant 'Who's Your Captain'" Jets: Well, there goes the another minuscule shred of hope that San Jose's season doesn't end in April.
So when the Sharks skated off the ice in the first intermission this past Thursday with a 2-0 lead, the questions boiled back up. Is this one of those statement game? Is this the one they need to win to show they are a competitive force?
And then, Team Teal rose to the occasion. Depth scoring played a key, with Tommy Wingels' opening marker breaking an 11-game scoring drought and Chris Tierney tallying yet another point since his return from AHL conditioning. San Jose minimized defensive mistakes — which cost them in Monday's loss to the Senators — and didn't take their foot off the gas when they had a two-goal lead. And of course, a better defense makes Martin Jones' job a bit easier, and he maintained his cool on Thursday even with Coyotes' captain Shane Doan and rookie extraordinaire Max Domi firing pucks his way.
That contribution up and down the lineup is something Peter DeBoer has seen from the team during this whole stretch of wins.
"I really liked our game," the coach said after the win down in the desert. "I thought that from our goalie, to our special teams, to the four lines and six defensemen — we had contributions from everybody."
Come to think of it, San Jose has arguably used this very formula to make a statement in their last six wins. They broke that baffling home losing streak against Toronto with multiple players breaking scoring slumps; they weathered a back-to-back on the road with solid goaltending performance from both Jones and Alex Stalock; they didn't succumb to emotion against Todd McLellan and the Oilers and they collectively put on one of their best performances of the season hosting a tough Dallas Stars squad.
I go back to something Marc-Edouard Vlasic said after San Jose's victory over Dallas, about being able to string multiple wins together. "It's important, in this NHL, with the standings, to get points. We've got a lot of teams to catch (in the standings) and we want to secure a playoff spot. We're far from it, but it's going good right now."
Actually for the time being, the one team they really are far from catching is LA, who visit SAP Center this Sunday. That's a whole other "statement" game to look forward to.