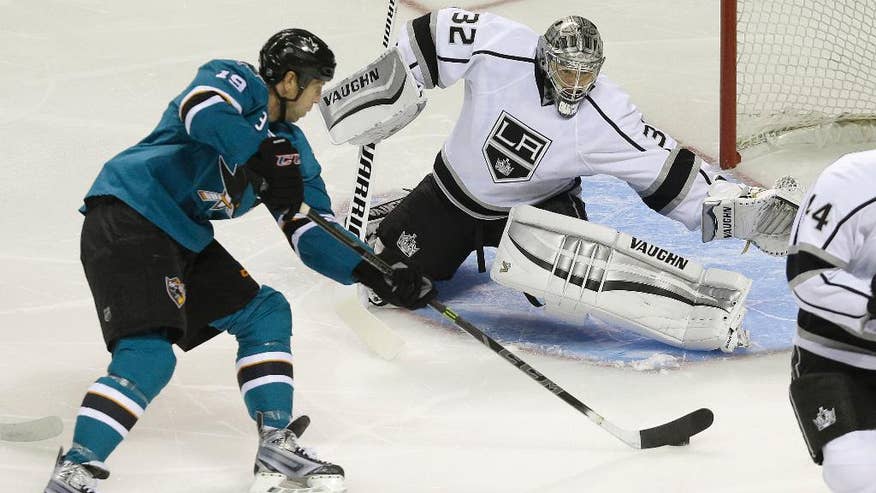 SAP Center — Yes, the NHL is still in the midst of its preseason so no, these games still don't really count.
Except this Sharks' preseason tilt was against the Kings, and every game against L.A. is bitter and physical, and a test of what San Jose is capable of bringing to the ice.
So when Team Teal fell 4-1 to the defending Stanley Cup champions on Tuesday night, it showed that the home team has work to do before they open their season on the road — in L.A. for that matter — next week.
"I thought there were some guys who were playing like it was an exhibition game," head coach Todd McLellan said bluntly. "I understand that happens, but we only have six or seven days to get ready … They have to understand individually that they have to be prepared to go. It is going to get cranked up a lot more than what we saw tonight."
The level of play was certainly turned up on the Sharks prospects who are still in camp. As opposed to the first handful of preseason battles where opposing teams also put younger rosters out on the ice, the Kings brought out their big starters. Defensemen Taylor Fedun and Mirco Mueller showed promise, and forwards Chris Tierney and Barclay Goodrow were impressive on the penalty kill, albeit looking shaky the rest of the game. Nikolay Goldobin, coming off a stellar weekend, looked nervous against the big bodies in Kings sweaters.
"It's definitely a faster game," Fedun said. "And the (younger) guys pay much closer attention to the details when you're going up against established NHLers."
However, both veteran players and roster hopefuls had difficulty halting the Kings offense, or keeping the puck in enemy territory. San Jose tallied 22 giveaways to L.A.'s 9, echoing the Sharks' collapse in Round 1 of last season's playoffs.
"I think we looked fatigued," Tommy Wingels admitted. "I think every guy in here will tell you that we're not fatigued. But we played that style. When you play that way, you're late to pucks, you're late to scrums, and you don't have success."
"I think it's a wake-up call for us," Logan Couture summarized. "They're ready over there. We're going to have to open up our season against them in seven or eight days. So we'd better get going."
San Jose scored their lone goal 1:28 into the premier period thanks to brilliant pass from Tomas Hertl to Fedun to Joe Thornton for the backhanded shot past Jonathan Quick.
Drew Doughty notched his first goal of the preseason on LA's first power play of the evening with a wrist shot that eluded Niemi glove-side and tied things up 1-1. The Kings threatened to break the stalemate with 21 seconds left in the frame, but Antti Niemi appeared to be in better shape than in his previous start and kept the puck from crossing the blue paint.
44 seconds into the second frame, however, Dustin Brown deflected a shot by Anze Kopitar that went five-hole. Niemi sprawled out flat on his stomach but couldn't stop the puck, putting the Kings up 2-1.
San Jose picked up steam in the second stanza but couldn't stop Justin Williams from sneaking the puck past Niemi's right pad and increasing the visitors' lead to 3-1 before the period was over.
Quick came out of the game in the second intermission and was replaced by Mart Jones, who continued denying San Jose another scoring opportunity. Dwight King continued L.A.'s assault in the third period with a sniper shot past past Niemi, increasing the Sharks deficit 4-1.
Preseason play concludes as the Sharks hit the road against the Arizona Coyotes on Friday, October 3 and down in Anaheim against the Ducks on Saturday, October 4. That gives them two games to fine tune their fatigue issues before opening night against the Kings down in L.A. on October 8.