NFL
Stay and pay: Oakland Raiders fans feeling like SF Giants fans in 1993
@weddlesbeard we alll waitinggggggg

— Bruce Irvin (@BIrvin_WVU11) March 10, 2016
@weddlesbeard come join this party you and the beard! we bout to have it litttt bro all year. Ain't no fun if the homies can't get none!

— Bruce Irvin (@BIrvin_WVU11) March 10, 2016
Call me baby Reggie lolol

— Bruce Irvin (@BIrvin_WVU11) March 10, 2016
Despite the rain clouds blanketing the East Bay, Wednesday was a gloriously sunny day for Oakland Raiders fans. A party, in fact. The team that was on its way to Los Angeles, or perhaps San Diego or even Las Vegas, recently renewed its Coliseum lease. And over the past two days, they've been one of the most active teams in free agency.
It's reminiscent of what happened with the San Francisco Giants, not long after this picture of Brandon Crawford was published in the Chronicle.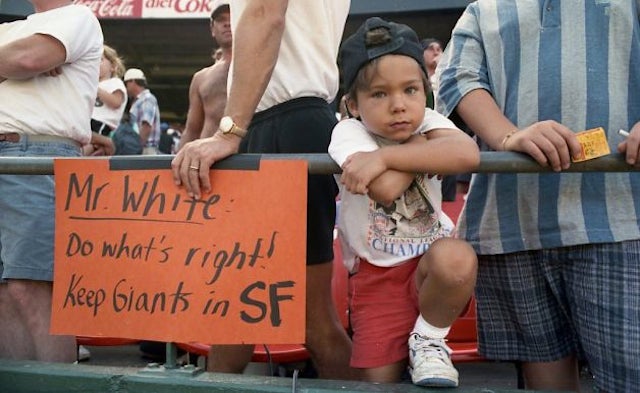 The Giants were on their way to St. Petersburg in 1992. It was a done deal. After tying and failing four times to pass a stadium ballot measure, Giants owner Bob Lurie sold the team to a group (which included Vince Piazza, son of Mike and friend of Tom Lasorda) that would move the franchise to Florida. However, Major League Baseball gave Giants fans in Northern California an unexpected gift when they didn't approve the sale and persuaded Lurie to sell the team to a San Francisco-based group led by Peter Magowan.
Once Magowan took over and promised to keep the team in San Francisco, Giants fans in the Bay Area were ecstatic. Then they signed Barry Bonds to a record six-year, $43.75 million contract, and the club's fortunes were changed forever. Instead of a middling team on its way to St. Pete, the Giants had the game's brightest star and would remain in Candlestick Park.
***
The Giants' 1993 situation is comparable with the current-day Raiders, who were kept out of Los Angeles by 30 NFL owners and responded with their biggest spending spree in franchise history. Kelechi Osemele, Bruce Irvin and Sean Smith will wear the silver and black in 2016, and they'll play in the stadium where fans were forced to say goodbye to their team in December. Who knows, Eric Weddle could be on his way as well.
The 1993 Giants won 103 games, but they finished one game behind the Braves in the NL West standings and those were the days when only four teams made the postseason each year. Regardless, it was one of the most memorable and enjoyable Giants campaigns, and that roster was among their most talented ever.
With the Broncos losing players left and right, it's not crazy to believe the Raiders could win the AFC West and make the playoffs for the first time in 14 years. Now that Oakland has a respected coaching staff and a young core including Derek Carr, Khalil Mack and Amari Cooper, free agents are doing the unthinkable — picking the Raiders.
Everyone expected Bonds to choose a team like the Yankees (who wouldn't guarantee a sixth year), Braves, Cubs, Phillies, Dodgers and Angels. The Giants weren't even on the national media's radar, and Lurie wouldn't approve the deal at first. But eventually Bonds joined the club where his father and godfather made their mark, and Giants fans received another unlikely, but very welcome, gift that offseason.
The Raiders haven't won anything yet with this group, and they don't have a long-term home. However, it would be much easier to convince corporate investors in the East Bay to invest in a football stadium if the Raiders made a substantial playoff run (Santa Clara residents are currently nodding yes).
In the meantime, Raiders fans can worry more about which remaining holes Reggie McKenzie will fill in free agency and the draft, while looking forward to a season with more optimism than they've had in ages and an era in which the Raiders are a favored destination for players and the 49ers are also-rans. The fun could be short-lived, sure. But that's better than no fun at all … and that's what most Oakland fans expected back in December.