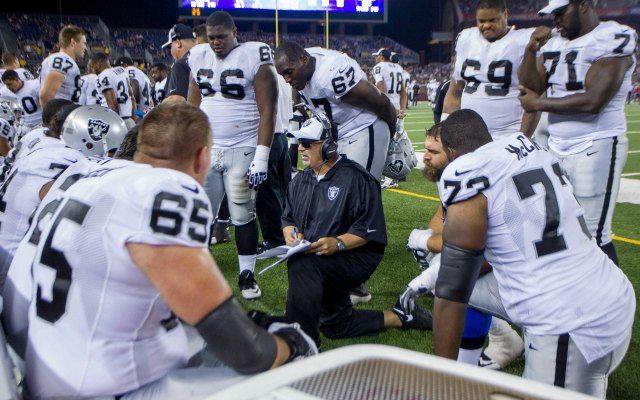 Tony Sparano, the interim head coach of the Oakland Raiders, has said that offensive coordinator Greg Olson will retain play-calling duties. But with only 12 games to try and convince Mark Davis to remove the word interim from his title, one has to imagine Sparano — and offensive-minded coach — will make some changes. The Raiders have the worst offense in the NFL, after all.
So what can Raiders fans expect from Sparano? Let's take a look at his coaching history to get an idea.
Sparano's first big break as a coach came when he was given play calling duties for the Dallas Cowboys in 2006. Before then, Sparano was primarily an offensive line and tight ends coach in the NFL. That year, the Cowboys were the fifth-ranked offense in terms of total yards, fifth in pass yards, 13th in rush yards and fourth in points.
In 2008, Sparano took over as head coach of the Miami Dolphins, where he remained until partway through the 2011 season.
In 2008, the Dolphins were 12th in the league in total offense, 10th in pass yards, 11th in rush yards and 21st in points.
In 2009, the Fins were 17th in total yards, 20th in pass yards, 4th in rush yards and 15th in points.
In 2010, the Fins were 21st in total offense, 16th in pass offense, 21st in rush yards and 30th in points.
In 2o12, Sparano was named the offensive coordinator of the New York Jets with disastrous results. The Jets offense was 30th in total yards, 30th in pass yards, 12th in rushing yards and 28th in points.
For comparison, the 2014 Raiders so far are 32nd in total yards per game, 24th in passing yards per game, 32nd in rushing yards per game and 32nd in points per game.
By far, Sparano's best season as an offensive coach came with the Cowboys back in 2006. However, play-calling duties were stripped from Sparano and bestowed to Jason Garrett the following year. A large part of his success on offense that year was probably because he had easily the best offensive roster of any year when he was influential in the offensive game plan. His worst year was in 2010, when pretty much nothing worked for him — with that being said, having the 16th most passing yards from Chad Henne isn't all that bad.
So what's the moral of the story? Sparano is about as good as the players he coaches. When he had good quarterbacks in Tony Romo and Chad Pennington, his offenses did well. When he had bad quarterbacks like Mark Sanchez and Chad Henne, his offenses struggled. Sparano has not shown himself to be the type that can get a team to play outside themselves, but he does know how to win with good players.
The problem in Oakland is that he won't have the good players he needs to have success.