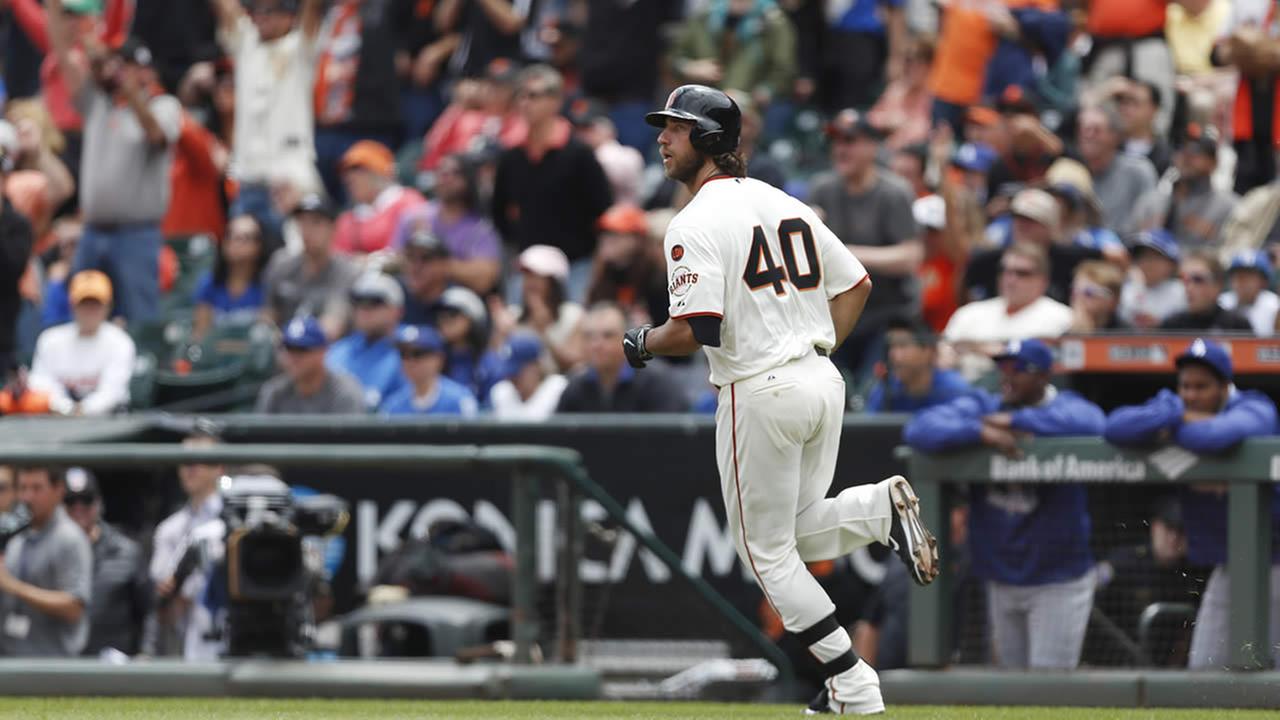 Just because the Warriors are in the NBA's final four — and winning entertaining games by the slimmest of margins — doesn't mean the Giants won't get a mention for what they've done over the past three days. Sweeping the Dodgers at any time is about as enormous as any 2% chunk of the season can get, and the Giants have done it twice. They're just about halfway done with the Dodgers part of their season, and their record against the team with endless funds is 7-2 so far.
And they sent them on their way without a single run. Not only that, but this was a Giants/Dodgers series where each game made the Giants look a little stronger and more explosive than they were the night before, peaking when Madison Bumgarner crushed an extraordinarily meaty Clayton Kershaw fastball into the left field bleachers, where it was caught by a Dodgers fan who seemed a little too pleased with himself, given the guy who hit it.
(The clip above doesn't really show how jacked that Dodgers fan was after he caught it, but it seemed like it was worth mentioning. I'm not sure which is worse, fans who either reflexively or due to peer pressure feel the need to chuck home run balls back onto the field if they're hit by the visiting team, or a fan wearing the colors of one team and acting like he won the lottery after catching a homer hit by the other club. It's a silly thing to worry about, and meaningless in the grand scheme of things … but baseball fans spend all day obsessing over numbers and records, so there you go.)
The Giants got another shutout on Thursday, plus a homer, plus some key hits that sent guys flying around the bases (Angel Pagan has been fantastic this year, but that slide around A.J. Ellis' glove was one of the most impressive things he's done as a Giant). Bumgarner seemed like he was in trouble for a lot of the game, but in the grand scheme he and Kershaw looked like two pitchers going in opposite directions.
And that's the funny thing about baseball — things can change so drastically during the course of the season, but rarely are we legitimately surprised in the long-term. We know that Kershaw isn't going to finish this year with an ERA over 4.00 — mostly because we can see how amazing he is when he pitches, but also because his BABIP is .349, his strikeout rate is higher than ever, and his FIP is 2.69.
But what to make of these Giants, who looked like a lost cause not that long ago? On Sunday, April 19, they lost 5-1 to the D-Backs. They had lost nine of their last ten games, they were getting beaten pretty badly most nights, and their body language was a mix of emo and flustered.
It's tempting to say, "Oh, anyone who doubted the defending champs that early on is a rube." Except we weren't wrong in April when we had a good idea that they'd lose games before they even played them. We weren't wrong when we knew they were bad. They were bad. It didn't mean they couldn't turn things around, but at the time they were a team that pitched poorly, fielded like they skipped Spring Training, and avoided hits with runners on base as if they would've caused their bats to explode into bits of maple shrapnel that shot straight toward their eyes.
Now, look at 'em.
Seven shutouts in their last 17 games.
Since that loss on April 19, they're 19-8.
They're 14-5 in May with a +38 run differential after going 9-13 with a run differential of -28 in April.
1.5 games behind the Dodgers, 3.5 games ahead of the Padres.
With a bullpen that looks not just postseason experienced by postseason ready as well, a lineup that doesn't have many holes when Matt Duffy and Joe Panik are in it at the same time, and a starting rotation that certainly seems good enough for the time being, it's hard to keep from getting optimistic. And when you watch Brandon Crawford come into the game as a pinch-hitter and knock in Buster Posey, or see George Kontos and realize that he's been pitching REALLY well for a while, you start thinking that the recent success of this team is indicative of good times to come.
It probably means they'll play fairly well for a while, at the very least. It doesn't mean they'll play .700 ball all season (they weren't as bad as they were in April, they aren't as good as they've been in May, yada yada yada), but for now it's OK to watch their confidence grow and enjoy the show, because you never know what'll happen in July and August.