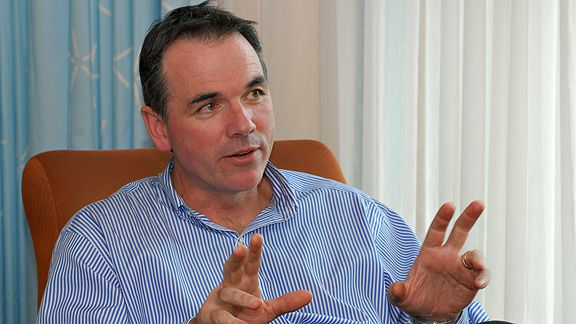 I've only talked to Billy Beane once — five years ago. I was a freelance writer for a website that focused on video games. I was never much of a gamer, but most gamers aren't sports people, so there was a fit. Everyone else handled all the action-adventure, first-person shooter and music games, and I was the one who traveled to sports game releases.
The site I worked with wasn't remotely interested in a story about "MLB Front Office Manager," a forgettable game from 2K Sports that sought to mimic the "Football Manager" series, which is popular in Europe. But the press event was at the Coliseum, and my editor asked if I was interested in interviewing the Oakland A's general manager for my little sports blog. I was, so I did.
Up to that point I could've counted the list of professional sports figures I had interviewed on one hand, but immediately I could see why the local media fawned/fawns over Beane. It's for the same reasons that a general manager of a "small market" baseball team was played by Brad Pitt in a popular movie and no one thought it strange. Beane is witty, charming and funny, or at least that's what I thought after our brief Q&A.
In the five years since that interview, Beane has faced about the same amount of criticism around here as Thomas Keller. But Beane isn't running a restaurant with three Michelin Stars. He's in total control of a baseball team that experiences ups and downs, calling the shots for a franchise with a rich owner who cries poor.
Beane is the team's biggest star. Imagine Brian Sabean coming to mind first, before thoughts turned to Buster Posey, Hunter Pence, Tim Lincecum or Madison Bumgarner. Or Trent Baalke ahead of Colin Kaepernick, Patrick Willis, Frank Gore or Vernon Davis. Forget Stephen Curry — look over there … is that the Bob Myers!?!?
It doesn't matter what Beane does. If he signs a free agent, it was a perfect Billy move. If he trades a prospect, he's really going for it this time. If he trades a star, they were going to get overpaid soon. If he put ketchup on a burrito, people would question the greatness of salsa.
Beane rationalized the A's collapse yesterday, saying it was inevitable and only his genius trade saved it from being worse than it was.
"Simply put," he said Wednesday in manager Bob Melvin's Coliseum office, "if we don't have Jon Lester, I don't think we make the playoffs."

As bold a statement as the Yoenis Céspedes-for-Lester trade itself.

The 2014 A's season went down in flames Tuesday night in Kansas City, and Beane was left to explain a day later what went wrong. A team that went from dominant to docile at about the time Beane traded Céspedes to Boston lost 9-8 in a painful season-ending wild-card game.

"One thing I'm going to say right now," Beane said amid a round of questions on the Céspedes-for-Lester trade, "the Angels were going to catch us. They played nearly .700 ball from a certain point on."
Beane is an intelligent guy, and his statements hold water. Lester pitched awfully well for the A's during the regular season — they won seven of his 11 starts during a stretch where the A's went 22-33 as a team, and Lester's stats were right in line with what he was doing in Boston before the trade. The Angels were undeniably awesome during the second half. And no one's expecting Beane to throw up his hands and say, "Guess what? My moves weren't all that great. I'm the reason why we didn't make it to October."
Here's how John Shea's article (from which I pulled Beane's quotes) concluded:
Beane said goodbye to Lester and other players, "half of them I won't see again. It's not like across the bay, where it's, 'Hey, we'll see you all the next five years.' "

With that, the interview ended. But not before the question of his legacy came up.

"My legacy," he said, "is my kids. Truly."
That sums up Beane's relationship with the media just perfectly. First, the "we can't afford to keep our team together because of the big, bad Giants" excuse, which conveniently ignores how much money the A's get from the other owners via revenue sharing, and owner John Fisher's net worth (well over $2 billion). And is there another general manager in any sport who gets this kind of "Oh, he's a GM who really gets it — not just in a baseball sense, but also in a life sense"? I'm not ripping Shea, either. It's everyone. Beane's a deft deal-maker, but he may be an even better relationship-builder. Otherwise, how would he be able to make so many deals with other general managers? Well, besides the fact that other GMs probably don't have quite as high an opinion of Beane as most fans, reporters or columnists.
This isn't about one game or one series, it's about fairness. How long is Beane going to go without getting harshly criticized? He's been on the job for 17 years. This year he ditched Grant Balfour for Jim Johnson and traded one of the top prospects in baseball in Addison Russell, but hey — he's a risk-taker and that's what makes Billy, Billy!
Was it a coincidence that Beane dealt Cespedes soon after he went against the GM's wishes and competed (and crushed the field) in the Home Run Derby? Perhaps it was, and maybe there's no credence whatsoever to the notion that Beane can't handle anyone's star outshining his own. But wouldn't this kind of question get asked about any other general manager?
Beane is bulletproof, and a big reason why is he's cooler than all the other GMs. People who talk to him (myself included, when I was a nervous freelancer five years ago) want him to like them. I'm assuming that'll continue to be the case until he either starts looking like a senior citizen, or the A's get a pristine, clean, revenue-generating ballpark. Then, once people get tired of writing fluff pieces about the brand new Cisco Field weight room Beane haunts during games (spinning for hours on the elliptical while throwing water bottles at fancy new TV screens), maybe he'll face the same scrutiny as everyone else.